Two day Yellowstone Upper, Lower Loops and Teton Tours from Jackson Hole. Tours for 1 to 5.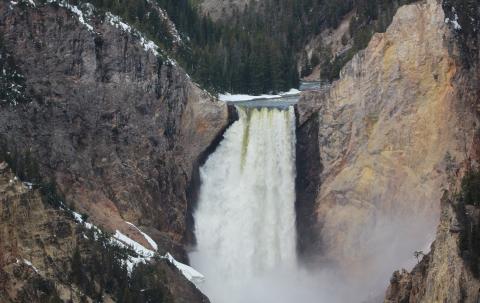 Duration: 2 Days (approx.)
Location: Jackson Hole, WY
Product code: P0PUBM
Book Now
Upon leaving your hotel in Jackson Hole, you will stop at Big Thumb by Yellowstone Lake. For some of you that will be the first time seeing fumaroles, hot springs, warm springs and the huge lake on an elevation of 8000 feet. The magma underneath Yellowstone park heats rain water and melting snow at about 8 miles below the earth surface. The water finds its way back to the surface of the earth, in the form of mud volcano, fumarole, warm and hot springs. Your tour route will lead you to Hayden Valley, home to wolves, Grizzlies, buffalo, and even bald eagles. Norris Geysers several miles away from the Grand Canyon of Yellowstone has magnificent hot and warm springs. One of them has greenish colored water, due to sulfur. The Steamboateyser and a huge furmarole are also some of the attractions of Norris Geysers.

Once you leave Norris Geysers, the next stop will be the Fountain Pain Pots. Here you will find mud with doses of chemicals bubbling, warm springs and sky blue warm water. The deep blue water is as result of depth of the spring. You will stop at the Grand Prismatic Springs, where bacteria and chemicals line the shores of the pond.
Old Faithful will be your last stop on your Yellowstone lower loop tour. The warm geyser shoots out water from its vent every 90 minutes, plus or minus 10.
On the second day of your tour, you will visit Yellowstone Upper Loop and the Grand Teton Park. Yellowstone Upper Loop has such features as the Obsidian Cliff, Sheepeater Cliff, Huckleberry Cliff, Mammoth Hot Springs, the petrified tree, Calcite Springs, Tower Falls and Lamar Valley. Yellowstone Safari Tours provides tours of both Upper and Lower Loops.
In Teton park, you are likely going to find moose, elk, antelope, even wolves and bears inside in Grand Teton. Our efficient tour guides will take you to Kelly, Moran, Oxbow Turnout, Jackson Lake, Jenny Lake Scenic drive, the back road to Teton Village, the banks of the Snake River.